Very excited to have an amazing little shop to show you today! Holly Casto is the owner and designer behind
Charm & Gumption
, a Nashville based company that specializes in stationary and office pretties.
Holly has something for everyone in her adorable shop - it's full of lovely notepads and cards and stamps, but I think my favourite items are her
gold foil prints
- I just think they are so lovely and I love the message of each one. I had an opportunity to ask her a few questions to find out more about her shop & items below! (like how she came up with her adorable shop name & what her favourite item is!)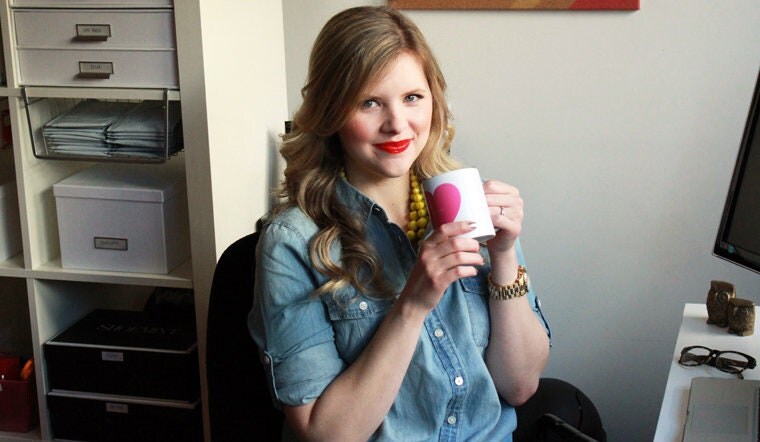 How did you come up with the name for your shop? How long has it been open?
Coming up with the name was quite a process! You have to find something that you like, and then you have to make sure that no one already has it. I loved the combination of those two words, and I felt that it was fitting because charm and gumption are two qualities that every successful woman needs. I opened the shop on January first of this year.
Who is your perfect customer? Does she have a story?
The Charm & Gumption customer is a woman who takes care of business and looks good doing it. She is working her way up in the workforce, starting her own business, or setting other big goals. She has fun with fashion and entertaining. She has the combination of cute style and impressive work ethic, or...charm and gumption. :)
What was the inspiration for your gold foil prints?
I created each one with sayings or mantras that spoke to me; words that inspired me to work hard and get things done. The designs themselves are simple because I really just wanted the words to shine through. Because of the simple design, I felt that they would really stand out in shiny gold.
Is there a cool back-story behind one of your items?
The
Get Fit Notepad
is actually just the way that I always organize my notebook when I'm trying to watch what I eat or record weight loss. I would divide the page up into sections and track things like water intake, diet, etc. I thought other ladies might find it helpful to have a notepad that is already set up in that way.
What is your favourite item in your store?
My favorite item so far is the
Inspiring Sentiments Postcard Set
. I love the idea of having a set of cards ready to send a quick, inspiring message to a friend who needs it. In college, I made some great friends who would always send me a little note if they knew I was struggling with a certain class or stressed out about something, and it meant more than any text message or tweet. This set makes it so easy to pick the right message, write a quick note on the back, and stick it in the mail - you don't even need an envelope!
________________
Thankyou so much Holly! I have to admit, I missed those postcards when I was going through your shop, but they are completely adorable!! I kind of love postcards (and snail mail in general) and those are just the sweetest - wouldn't it be lovely to receive one of those?
Holly has generously offered you guys 10% off for the rest of the month with the code "CANDG10"! Be sure to browse through
Charm & Gumption
(and don't miss things like I did haha) and check out Holly's
blog
. You can also find Charm & Gumption on
Facebook
and
Twitter
.
xo,
B